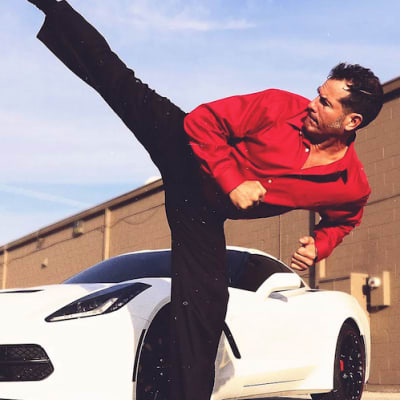 Sensei Steve Basche
Sensei Steve Basche is a 5th degree black belt with over 30 years of experience in a variety of martial art styles. He began training at the age of 11 in Fort Carson, Colorado and has trained under several distinguished instructors including:
Grand Master John Pelligrini: founder of combat Hapkido, which is recognized worldwide as one of the most effective self-defense techniques in existence.
Grand Master Jung Soo Park: 10th degree black belt with 60 years of experience. Master Park served as a member of the elite Korean Rock Army, has served as bodyguard for presidents, and for a stunt double for Pat Morita's character, Mr. Miyagi, in the Karate Kid.
Sensei Basche has also trained with Joe Lewis, one of Bruce Lee's more notable students.
Sensei Steve Basche's philosophy focuses, not only on the physical benefits of the martial arts, but also on the spiritual discipline, self control, and respect necessary to produce well rounded students. He puts this philosophy into practice and encourages his students to participate by presenting martial arts demonstrations at nursing homes and schools, by holding ladies self defense clinics and kidnap awareness classes in the community.
"Our number one priority in Fort Wayne," he says, "is to give back to the community and to help others better themselves physically, spiritually, and mentally".