Kickstart Your Child's Journey With Kids Taekwondo Classes!
Basche's Martial Arts has decades of experience helping students learn, grow, and thrive. If you're hoping to help your child build strong values of confidence, perseverance, courtesy, and discipline, our Kids Taekwondo Classes will lay the foundation for a lifetime of success!
Join us in Fort Wayne and see for yourself the kind of incredible impact that martial arts training can have. Taekwondo isn't just about punching and kicking -- it's about instilling lifelong values and providing students with transferable skills that will help them in all walks of life. We are 100% committed to helping Fort Wayne become healthier mentally, physically, and spiritually -- stop by for your first class and find out how.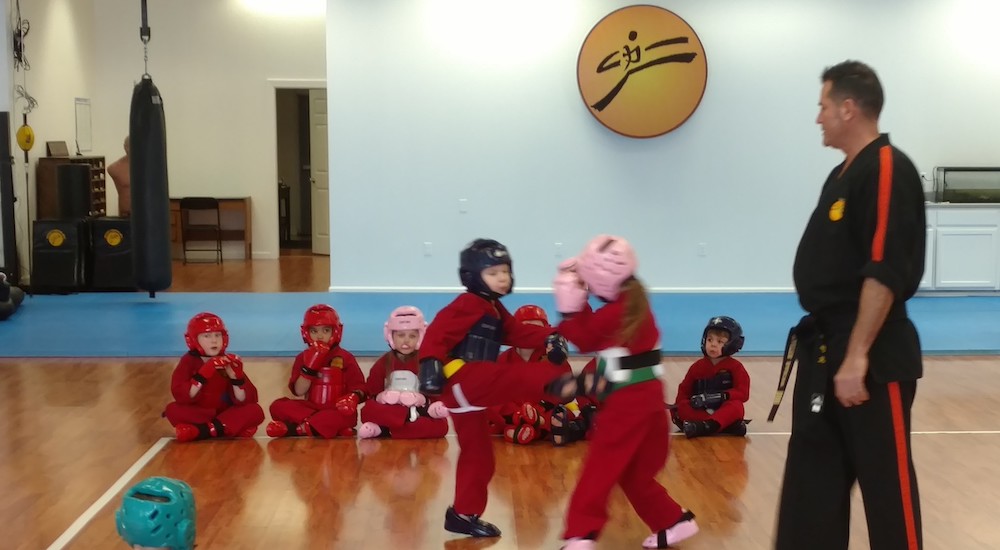 If you have questions about our Kids Taekwondo program, just fill out the short form below to learn more!
Why Choose Taekwondo?
Traditional Taekwondo training offers so much more than cool tricks and self-defense skills. The martial arts have a long history of helping students learn, grow, and thrive -- and that's what our Kids Taekwondo Classes are about. Our team at Basche's Martial Arts strives to promote confidence, discipline, courtesy, compassion, and respect in each and every one of our students. We impart teamwork and leadership skills. We give them the anti-bullying skills and focus they need to thrive at school.
We are committed to helping kids from Fort Wayne get the best possible martial arts training, enjoy the highest-quality community, and experience lifelong success.
Our kids martial arts classes can help your child:
Develop confidence, courtesy, and respect
Improve gross motor skills, balance, and flexibility
Learn anti-bullying strategies and practical self-defense
Practice teamwork and leadership skills
Kids Taekwondo Classes Are Great For Any Age!
No prior experience? No problem! At Basche's Martial Arts, we divide students into several categories so that they get the opportunity to train alongside students of similar ages and experience levels, starting with our Little Tigers class. Help your child get started on learning important life skills alongside other students from across Fort Wayne -- they'll connect with new friends, meet new mentors, and become better in every way.
Little Tigers (Ages 4-6)
Little Tigers is an introductory taekwondo class for children 4-6 years old, and is a great way to introduce young children to the martial arts. Students learn to control their bodies, listen to instructions, and focus on tasks without being distracted. They'll learn fundamental concepts such as how to make a fist, how to stand strong, how to throw a punch and kick properly, and all the while they'll enjoy energetic activities and fun games in a group setting!
Kids Martial Arts (Ages 7-12)
We have basic classes for beginners of any age and, because we believe martial arts can benefit everyone, no previous martial arts or athletic skill is required. Our Kids Martial Arts class is for children 7-12. Beginners train in a positive atmosphere of encouragement and support, learning the fundamental elements and basic strikes of our curriculum one step at a time. For students who truly want to unleash their inner ninja, we offer a Black Belt Club where kids can work towards earning a black belt!
Black Belt Club
The Black Belt Club is for those students who have reached an intermediate level. These students are ready to learn more and are serious about working toward their black belt. Black Belt Club members learn a more advanced curriculum while honing the skills they have already acquired. Sparring is a regular part of classes and students are also introduced to ground techniques. Although the Black Belt Club is for students who have advanced beyond the fundamentals, students of lower rank who work hard and show initiative may be invited to join the Black Belt Club early in their martial arts career.
Master's Club
The Master's Club is for students who have already earned their black belt or are nearing black belt graduation. Students who are invited to the Master's Club have learned all basic techniques and wish to learn advanced curriculum.
Get Started With Fort Wayne's Favorite Taekwondo Classes Today!
Basche's Martial Arts is proud to provide high-quality martial arts training to kids from around the Fort Wayne area. Enroll in your first class and see for yourself how traditional martial arts training can help your child learn to be more confident, focused, and respectful! We are committed to giving back to our community, and our Kids Taekwondo Classes lay the foundation for a lifetime of success.
If you have questions about our Kids Martial Arts program, just fill out the form below and we'll contact you!